Once again I was asked to partake in the latest "Under The Influence" tribute show at Gallery1988 in Melrose CA.  This years topic was The Beastie Boys.  This was exciting as I've been a longtime fan of the Boyz and knew this would be an excellent opportunity to create a shrine-like stained glass window for the show.  Unfortunately many of my early sketches and work in progress pictures from this project were lost in a massive HD failure… but luckily a few were stored in other places.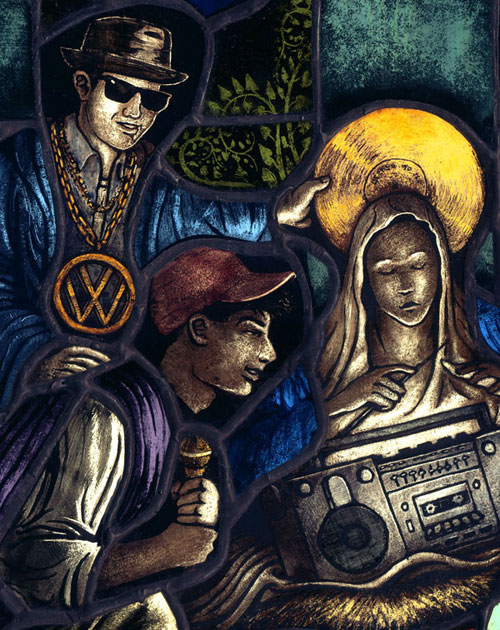 Stained glass windows require a whole ton of pre planning before any physical labor begins…
I make many different layout sketches + lead frame work sketches and later digital color tests.
Once the design is fully realized…. A master template is printed and cut into individual (paper) pieces.  These pieces are then afixed with glue to various shades of glass.
Once all the pieces are glued to their corresponding glass colors, the pieces are cut out using a standard glass cutting tool. Once all the pieces are cutout, cleaned, and arranged, the individual glass painting begins.  Each piece is hand painted with a mixture of lead dust and white vinegar.  Once a piece is finished, it's fired in a kiln at 1200 degrees F thereby melting the pigment into the glass.
First line work and then layers of shading are applied.  The above photos were taken on a light box… all the "white" glass is actually clear glass.  All of the pieces are still free floating and not connected together during the entirety of the painting stages.  When all the pieces are finished, an application of silver nitrate to various parts "stains" the glass the familiar amber color seen in many medieval church windows.
When all the pieces are done… they are finally assembled with a lead boarder, completing the window.