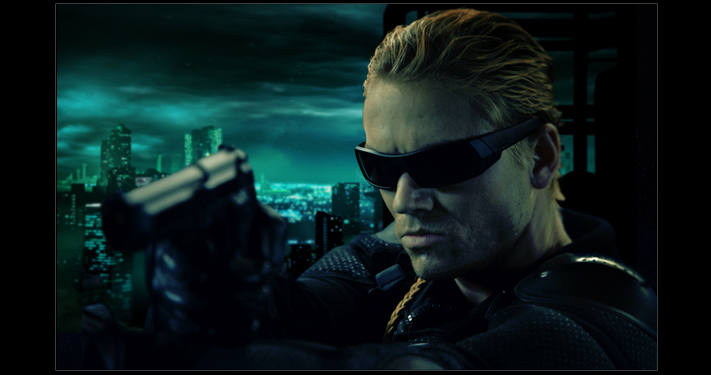 The League • Born of Night • Born of Fire • Born of Ice
(click to watch)
I recently had the super fun opportunity to produce and direct three dynamic commercials for the new League book series by #1
bestselling author Sherrilyn Kenyon. The books are set in a distant universe and feature a colorful assortment of deadly space
assassins and hot chicks… aka good books AND a perfect occasion for some awesome imagery and special effects!

Each commercial promotes a different book from the series and will air daily on the Syfy channel from Oct-Dec 2009. The casting and research began in early September and shortly thereafter the production commenced in Los Angeles in the form of a two part, three day shoot on a green screen sound stage. Post production took about a week per commercial. All the costume and styling was put together by Amber Votel and the lighting and Canon 5D camera work executed by none other than my super rad bro and kick ass cinematographer Steve Roth.

Once the scripts were finalized, all the spots were first carefully planned out via storyboards. Storyboards are especially important when planning a shoot involving so much green screen action and post production work. A great deal of pre planning is necessary for just about every shot. Many things such as improper lighting and camera angles can seriously hamper post production efforts later down the line. So once the boards look good, I give them a "test run" in the form of an animatic. This is basically a rough cut of the boards to an early audio track + voice over. Here it will be discovered if all the action can actually fit into the given time frame, in this case- 15 short seconds per commercial.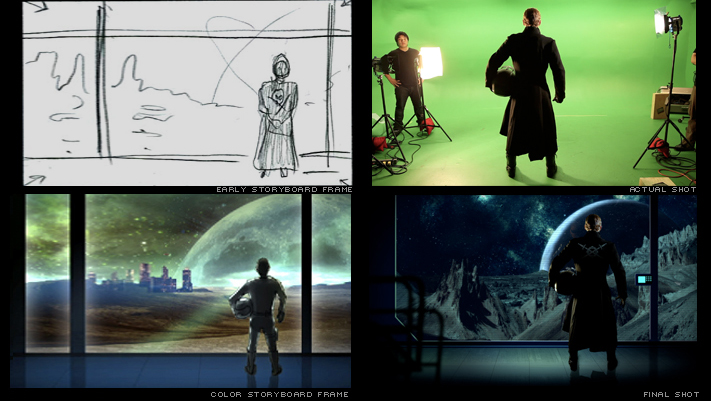 To create the highly detailed Sci-Fi surroundings in the commercials, many different elements were digitally "collaged" together in post. This typically would consist of a great deal of high resolution photos as wells as various stock videos of moving elements such as smoke and fire. Also, many subtle details such as sparks, embers, weather, and breath were created with particle effects and simulations. Motion tracking software was used when working with moving shots and for things like iris replacement and/or enhancement.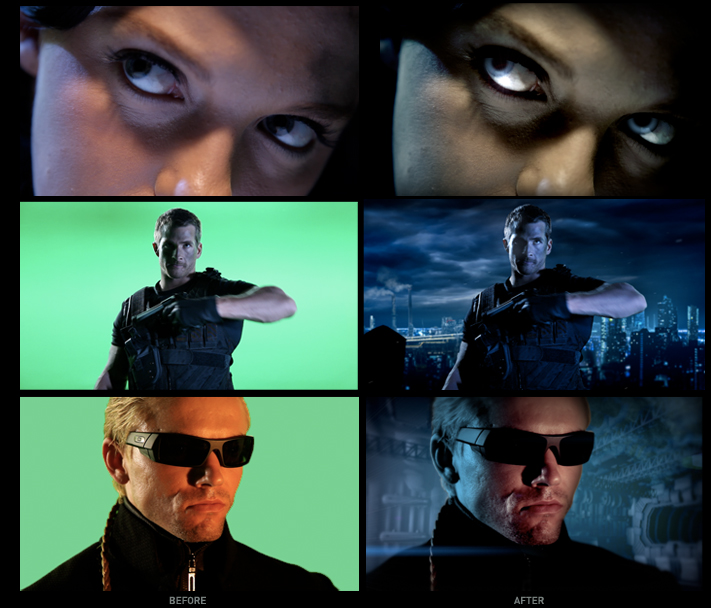 Below is a breakdown of the many different pieces that come together to make one shot. With a little cutting out, and a whole bunch of color correction… pretty much anything is game. The final "kidnapping" sequence utilized over 70 different layers in its composition.
Next is a fun little motion test I made early on for fun. It gives a good demonstration of background keying in action!
Some assorted production stills: